Text with 4 notes
"She can find happiness in anything, nothing in this world can get her down." - Mr. Koiwai talking about his daughter, Yotsuba (Yotsuba&! Volume 1)
I recently caught up with a manga series that I have heard about from 4chan (with its depiction of the main character as a mascot) and it is probably one of the more simple, yet very well-executed, manga out there. Kiyohiko Azuma's Yotsuba&!  takes a look at the life of a extremely energetic 5-year old girl named Yotsuba Koiwai and her adventures in daily life. The series is very childish at heart, but carries very strong themes. Yotsuba is a look at the psychology of hyperactive children and how energetic children can have a better knack for brightening up anyone's day than adults could.
Where to begin on describing Yotsuba Koiwai? Probably two words: overly enthusiastic. She marvels at practically everything there is to see & experience in daily life. Yotsuba also has a habit of saying the most random & weirdest things out of nowhere, usually without thinking. She is an orphan raised by her foster father, Mr. Koiwai (aka Daddy). Her true origins are unknown, though Yotsuba claims she was raised on an island "to the left". Her curiosity knows no bounds and it draws a crowd to her. All the main characters in the series find her a joy to be around. It is also noted that she is not in school. As started earlier, Yotsuba has become popular outside of the series, where she is the official mascot of the infamous forum website, 4chan, and is also the name of the software running the site. Yotsuba&! would also be used by Japanese pop culture news site, Japanator, to make fun of current anime/manga trends (like this particular comic about the Tokyo Youth Ordinance Bill).

Now, some of you who are very unfamiliar with the series might think that Yotsuba sounds like someone who has a extreme case of ADHD (attention-deficit hyperactive disorder). She may exhibit certain characteristics that are attributed to ADHD, but that doesn't mean she is completely incapable of learning & understanding. Yotsuba may not always have great manners (when her father asks her what to say when receiving a gift from someone, she goes "CAN I HAVE SOME ICE CREAM?"), but she grasps things quickly if explained in a thorough manner.
Yotsuba is possibly a reflection of how society views children that have ADHD. In the U.S., the Supplemental Security Income (SSI) program has been encouraging parents to label healthy children with ADHD as "disabled" to get income from the government. Parents may make their kids take psychiatric drugs to get them hyper in order to qualify for the SSI program. In other words, children become pawns in order to gain money. There are also general misconceptions about diagnosing ADHD in children. Kids do exhibit inattentiveness, hyperactivity, & impulsiveness normally and those symptoms also happen in other disorders as well. One other note is that ADHD is most likely caused by genetics and not the result of outside factors. Parents shouldn't entirely be blamed for their bad parenting skills (or criticize themselves for not doing a good job) if their children are diagnosed with it.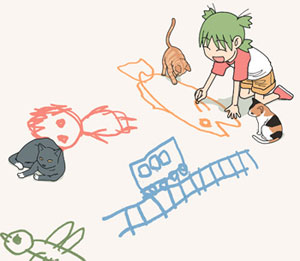 Yotsuba also shows how people who may have a case of ADHD can be the most awesome people in the world. Not many people have positive impressions of adults & children who have ADHD. However, look at it this way: those with ADHD can be more "human" than those who don't have it. There are many positive aspects that people with ADHD have, like being very trusting to not harboring resentment to being very open-minded (the latter slowly becoming a lost art in today's world). This is why energetic children can cheer up adults better than some adults can because they still have innocence. Their naivety & curiosity can remind us of what we used to be & think. Being around them can also make you youthful & more daring.

One final point to bring up is Japan's take on mental illness. If you have a mental disorder/disability and live in Japan, Japanese society will look at you as if you are an outcast. It is disgraceful to feel mentally ill and/or depressed. In some ways, Yotsuba Koiwai is a complete antithesis of Japan's views. You have to wonder the intention of Azuma when he created the character. He may have wanted society to understand that having a overly active child is not a bad thing as some people perceive it to be and that it is important that parents (& society to a certain extent) have some responsibility in developing those children to be fine adults. It is not the end of the world if your child is labeled as "disabled", "special", etc.
Not everyone can handle children, though being around one, especially someone like Yotsuba, can do wonders. Children's reactions to certain things can be really priceless and you start to examine yourself & see that children might not be all that bad. Yotsuba&! is a extremely charming series that has fascinated many readers and reminds us that:
1.) We should take some responsibility in guiding the next generation properly.
2.) We shouldn't lose our enthusiasm as we grow older.
3.) Even the little things in life can be exciting.
In the words of Yotsuba herself, "Ra ra ramen! It's really really long and really really gooooood!"

Yotsuba&! is published by Dengeki Daioh under ASCII Media Works. Volumes 1-10 are currently out in Japanese bookstores everywhere. Volumes 1-9 are published here in North America by Yen Press.